Regular price
$148.00 USD
Regular price
$168.00 USD
Sale price
$148.00 USD
Unit price
per
Sale
Sold out
ON BACKORDER: Shipping Early November 2023. Subscribe for updates.
Free Shipping Over $150

Secure Online Payment
Yes, you CAN do it! Like anything, fatherhood is much easier if you have the right tools. The Dadventure Diary is one of these tools. It's more than a journal, a photobook and a lifelong keepsake. It's your very own ticket to confidence in fatherhood. We all know that the hardest step is the first one but this tool makes that step easy. Getting to know your kids better and them really getting to know YOU starts with quality, undistracted time.

Now making that quality, undistracted time even easier with the Dadventure Diary + Instax Mini 12 Bundle! Remove the digital distraction of your phone but still capture every precious moment of your Dadventures… without the hassle of remembering to print them later!
Why are Instant Cameras so worth getting? We've been using our adventure diaries for over a year now, and this is why we'll never be without an Instant Camera again:
Removes digital distractions (compared to using a camera phone) so we can be fully present with our loved ones.
Makes the adventure event seem more special/out of the ordinary.
Gets the kids involved in taking the photos and watching them print, as opposed to just pointing our phones at them all the time.
Makes creating the photo album a breeze! We always forgot to print the photos we'd take on our phones, leaving blank pages in our diaries – but with an Instant Camera, our diaries are now bursting with memories.
Once you add an Instant Camera to your adventures, you'll never go back.

Bundle Options:

Share
View full details
★★★★★ "Best Father's Day Gift Ever!"
"... It was a hit! My husband loves it, and the kids are so excited to go on all these amazing adventures together. The cards have a really great mix of adventures for little and big kids, and will be a source of endless ideas for different experiences, to create wonderful memories together. As cheesy as it sounds, it really will be the gift that keeps on giving. Best Father's day present ever!"
- Lauren Saunders (Sydney, AU)
Watch the Dadventure Diary in action:
Step 1: Pick a card, any card
Sort and shuffle the activity cards which are appropriate to you, your kids and the weather and let them choose your next Dadventure! There are even blank cards for you to add ideas specific to your interests and locale.
Step 2: Get out of the house and go on that Dadventure!
Pack your bags using the checklist at the front of the diary and enjoy your Dadventure! Take a few photos when you're having fun but remember to put your phone on 'do not disturb' and live in the moment.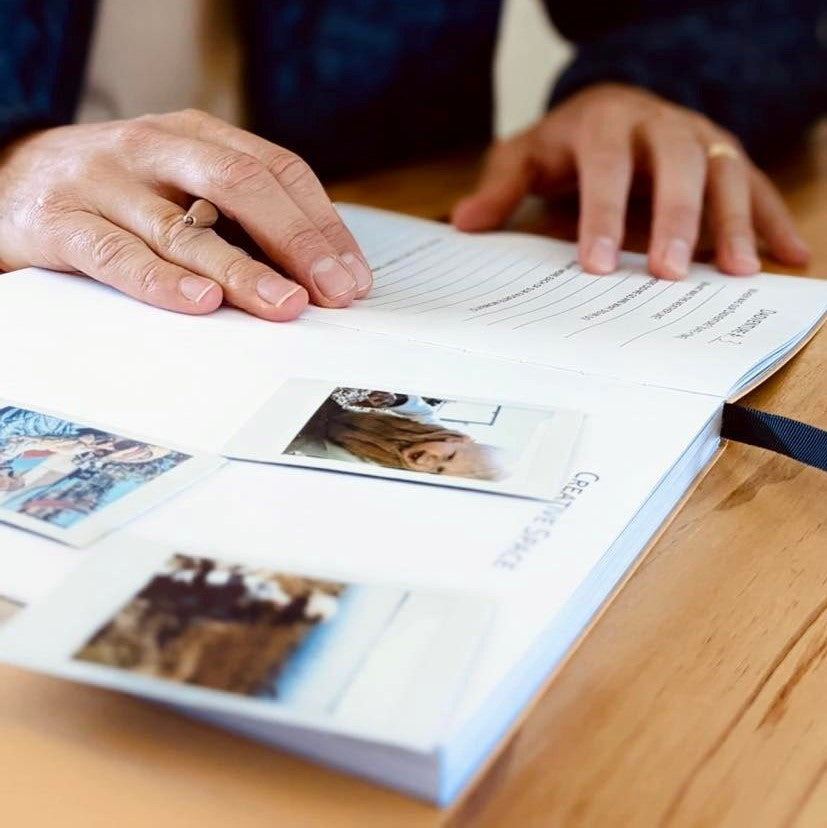 Step 3: Save the fun times
Together, write your answers to simple questions that will capture the essence of your new favourite moments forever. Print off and stick in your photos and even let your kids draw something if you like.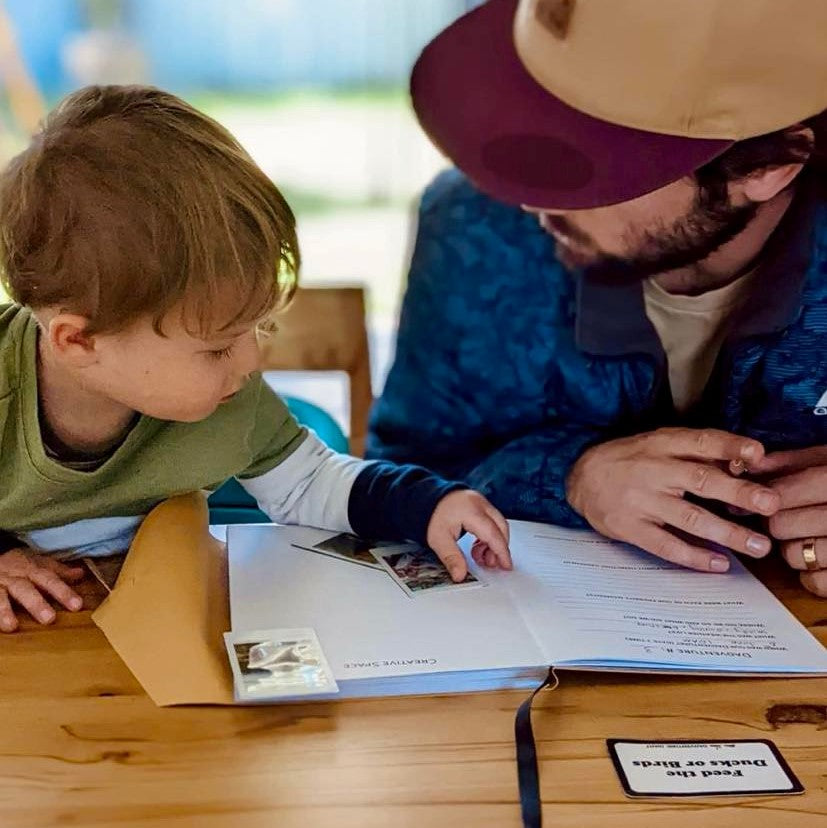 Step 4: Reflect and learn
After every few Dadventures, use the provided space to look back over your Dadventures and talk to your kids about them. This is where the magic happens and where you'll REALLY get to know each other more.
Collapsible content
What's a Dadventure?

A fun-filled adventure exclusive to Dad and the kids!
Who is the Dadventure Diary for?

The Dadventure Diary is for every dad who wants to be more fun, intentional and predictably present with his kids.
While the Dadventure Diary can be used with, and contains a list of Dadventure ideas for kids of all ages, the ideas contained in the Dadventure Deck are geared towards kids aged 2-13 years old.
Why do I need one?

We all need a little inspiration to break us out of the same old ruts, even in fatherhood. And we all need a little help remembering the good times we're intentionally creating with our kids. The Dadventure Diary will build the habit of setting aside time for your kids on a regular basis and give you loads of ideas for fun Dadventures to go on. It will make it easy to capture and record your Dadventures so you'll never forget them, and make you even more of a hero in your kids' eyes as they eagerly look forward to your time together.
How does it work?

The Dadventure Diary and Dadventure Deck of activity cards gets you and your kids out of the house to go on weekly adventure experiences together. After the Dadventure, the good times aren't left to fade but are saved forever through the stories, photos and drawings recorded in the diary. With regular reflection space, you'll get to know your kids on an even deeper level as your family looks back over treasured memories, reinforcing the good times and writing your legacy, one Dadventure at a time.
What are you waiting for!?

Start your Dadventures now and never stop! Record the memories and create a lifelong keepsake. When you're an old man, you'll be sitting on the couch with your children and grandchildren, flicking through worn pages of your Dadventure Diaries saying, "Remember this one…!?" Don't leave your most priceless relationships up to chance - purposefully invest in them.


Let the Dadventures Begin!
What comes in the box?

1 x Vegan leatherette bound Dadventure Diary:

- Space for 52 Dadventure entries and 10 reflection entries.
- List of 66 Dadventure Ideas with recommendations around age, cost, equipment and weather.
- Inspirational quotes and artworks.
- Expandable leatherette wrap-around binding allows for adding photos and artworks without worry of loss.

1 x Dadventure Deck:

- Deck of 52 activity idea cards.
- 42 activity cards.
- 10 blank cards to be personalised to your family and locale.

1 x Metal Click-Action Pen:

- Quality black ball point pen with metal ink cartridge.
- Laser etched Dad Certified logo.

See "What are the bundle options?" for optional inclusions.
What is it made of?

Box:
- FSC Certified, recycled ESKA Board.
- Printed card stock with soy based inks.

Diary:
- Textured brown vegan leatherette cover and cord with card stock backing (actual colour may be different from images).
- FSC Certified, 120 gsm paper.
- Printed with soy based inks.
- Trees for the future partner (https://trees.org/).
- Grosgrain ribbon.

Card Deck:
- 300gsm card stock.
- Soy based inks.
- Anti-scratch coating for rough handling.
Pen:
- High quality metal ball point pen.
- Click action with some plastic components.
- Replaceable metal ink cartridge.
What are the bundle options?

64 x Sellotape Photo Dots
- Free photo dot adhesive for sticking in photos or film.
- Double sided adhesive.
- Lignin-free and acid-free.

FujiFilm Instax Mini 12 Instant Film Camera
- Accepts Instax Mini Instant Film
- Fujinon 60mm lens with selfie mirror
- Dedicated selfie/close-up shooting mode
- Automatic exposure and automatic flash
- Optical viewfinder
- Runs on two AA batteries (included)

60 Pack FujiFilm Instax Mini Film
- Contains 60 sheets per pack (6 × 10 sheets)
- Professional quality instant film technology
- Film Size: 54 x 86mm | Picture Size: 46 x 62mm
- Compatible with any Fujifilm Instax Mini Camera or Printer
- Please note Instax film has a recommended use by date which the film should
be used by (printed on the box). This date no longer applies after the photo
has been taken.
What's your turnaround time?

Unless an order contains a Pre-Order item, all orders placed before 10am are usually processed same business day and delivered within the suggested times stated on our Shipping Info Page. Orders placed after 10am are usually processed next business day.

Orders containing Pre-Order items will be held until all Pre-Order items are in stock. If you need part of your order urgently, we recommend placing your order for Pre-Order items separately.
Absolutely fantastic
We ordered the Dad adventure diary and camera pack for Father's Day and my partner has already taken photos on an epic adventure that he is keen to sit down and document in the diary. He was definitely impressed with the quality of the products.
Perfect Father's Day gift
My husband is a very hands on and loving dad, but not very creative! I got him this on behalf of our kids for Father's Day and it gives him something to look forward to do with the kids without the hassle of coming up with the ideas. The diary is very nice and well laid out too. It's a wonderful memento and reminder to get out there and make memories.
Would recommend
An excellent gift for all dads!!!
On the weekends when you have nothing planned and you know it's going to be another park day, and the thought of going to the park again is draining haha!
You turn to the dad certified diary!
Firstly it gives the mums times to themselves and secondly it has numerous ideas that dads can do with their little ones. I bought a Polaroid camera as well and they loved coming home to show me all the pictures from their adventures.
My husband loves it too as there is no thinking involved, the card is picked and off they go :)
There are also blank cards for the kids to write their own ideas on, they loved sitting down and coming up with their own daddy adventures :)
Would highly recommend this diary. Plus it becomes a forever keepsake:)
Best present!!
My husband absolutely loved this present from the kids. It is so beautifully made. The kids are so excited to tick every adventure off together!!
Brilliant Idea!
My husband absolutely loved his Dadventure Diary we gave him for Fathers Day. He has already made a start filling in the adventures we have been having. Such a brilliant idea.
Such an awesome gift idea!
I bought this for my husband for Father's Day and he absolutely loved it! Our son is 2yrs old and just loves being outside - there's plenty of adventures in there to suit. It's not even that my husband isn't inventive with things to do with Noah, but now he has a beautiful diary to store all the memories in. Such a great keepsake (and beautifully presented in the box), that we will always be able to flick through. As soon as he got it, he started going through his phone and created an album for all the Dadventure photos :) This really is a brilliant way for Dad's to connect with their kids and make memories that last forever - thank you so much for creating it!
PS Can't wait for the Mum version!
Let your Dadventures Begin...
Why wait?
The Dadventure Diary is much more than a quality journal packaged in a really nice box with a deck of cards and a pen. It is the tool that will change the way you relate to your kids forever.
Committed to bringing you High-Quality & Life-Changing solutions...
Portion of Profits Donated

A portion of profits from each product sold are donated to Barnardos Australia who help vulnerable children to recover, thrive and reach their brightest future.

Learn More

Ethically Made

All efforts have been made to ensure all Dad Certified products, including all accessories, have been manufacturing in ethical working conditions for a living wage.

Sustainable Material Selection

All Dad Certified products have been made using high quality and sustainable materials including:
FSC certified paper, recycled ESKA board, soy-based inks and vegan leatherette fabric.

Trees For The Future

Our Printer is a Trees For The Future partner, donating 10,000 trees each year to help global efforts to: heal the environment, alleviate poverty and eradicate hunger.

Learn More
Other Dad Certified Solutions...
Regular price

$53.00 USD

Sale price

$53.00 USD

Unit price

per

Regular price

$53.00 USD

Sale price

$53.00 USD

Unit price

per

Regular price

$53.00 USD

Sale price

$53.00 USD

Unit price

per